KA208 + SB18 Sistema de audio profesional ¡Probado por el cliente!
: 317
: 2023-07-31 16:42:49
The customer auditioned Sinbosen's 8pcs KA208 dual 8 inch line array speakers + 4pcs SB18 18 inch subwoofers and shared its test video.
KA208 DUAL 8 INCH LINE ARRAY
SB18 18 INCH SUBWOOFER

Model :KA208 3.0
Rated Power (RMS) LF: 450W ; HF: 100W
Nominal Impedance:LF: 8 Ohm or 16 Ohm
Sensitivity(1W/1m)db: 102dB (1w@1m)
Maximum Peak SPL: 125dB
Dispersion(-6dB): 110° Hor × 10° Ver
Finish:Polyurea coating

Max SPL: 138 dB
Low frequency limit: 32 Hz
Transducers: LF: 1 x 18"
Weight: 52 kg / 115 lb
Directivity: standard or cardioid configurations
The compact design of the KA208 line array speaker ensures clear and balanced sound performance in various application scenarios. The SB18 18 inch subwoofer delivers deep, powerful bass. The KA208 professional speaker is light in weight and compact in size, making it easy to install and carry. They can be combined by flying or stacking to meet the sound expansion of different venues and needs. The KA208 and SB18 audio systems blend seamlessly to provide rich low-frequency extension for a powerful, full-bodied sound for concerts, concerts, and other large events. Sinbosen's cabinets and loudspeakers are all made of high-quality materials and structures, including KA208 and SB18 speaker, with polyurea anti-corrosion paint and imported high-quality rigging. With excellent durability and reliability, it can adapt to various harsh environments and conditions of use. Overall, the KA208 and SB18 audio systems are highly regarded for their high sound quality, flexibility, expandability and durability, and are suitable for the needs of various musical performances and events.
If you have this system and still lack a power amplifier to drive it, the D4-3000 DSP can be considered,
The D4-3000 DSP digital amplifier can be connected to two single 18 inch or one dual 18 inch subwoofer (note: you need to set the pressure limit), or to two line array speakers KA208 in one channel.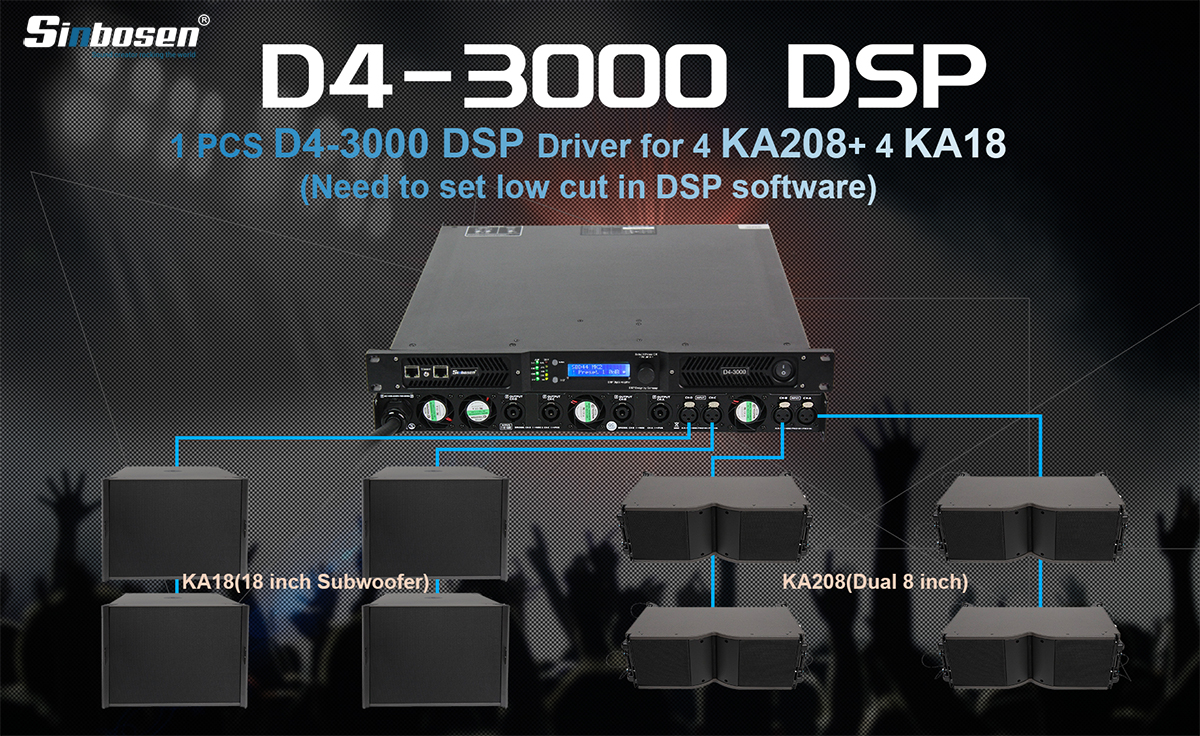 Contact Us:

sales2@sinbosen.com
Whatsapp:
https://api.whatsapp.com/send?l=en&phnoe=8616676738225
Website:
https://www.sinbosenaudio.com/