¡Buenas noticias! Chile puede enviar localmente ahora!
: 435
: 2023-05-31 23:45:57
Good news for Chilean customers!

In addition to opening overseas warehouses in the US, Mexico, and Europe, considering the needs of South American customers, Sinbosen has now added a Chilean warehouse.
By storing inventory in overseas warehouses, Sinbosen can fulfill orders from Chilean customers faster and more efficiently, which is crucial for the user experience. Large quantities of goods are transported to warehouses through cheap shipping channels, and then distributed locally. This can reduce the overall logistics costs related to international shipping.
Overall, adding overseas warehouses has reduced transportation costs, tariffs, delivery times, and customs related delays!
According to previous Chilean customers' preference for Sinbsoen amplifiers, Sinbosen mainly provides storage for the following best-selling amplifiers.
Class TD 2u professional amplifier: FP10000Q black version, FP10000Q blue capacitor version, FP20000Q
1u professional digital amplifier: K4-450, K4-1000, K4-1700
The above models are also popular professional amplifier models from other three overseas warehouses, with a large audience, a wide range of applications, and guaranteed quality! The expected time for this batch of goods to arrive at the overseas warehouse is the end of June. Welcome to consult and learn in advance.The storage model of the amplifier may vary slightly for each batch, and more models will be added to overseas warehouses in Chile in the future!

The goods will arrive at the warehouse by the end of June. Chilean customers are welcome to inquire! Customers from Europe, America, and Mexico are welcome to purchase anytime and have local stock available!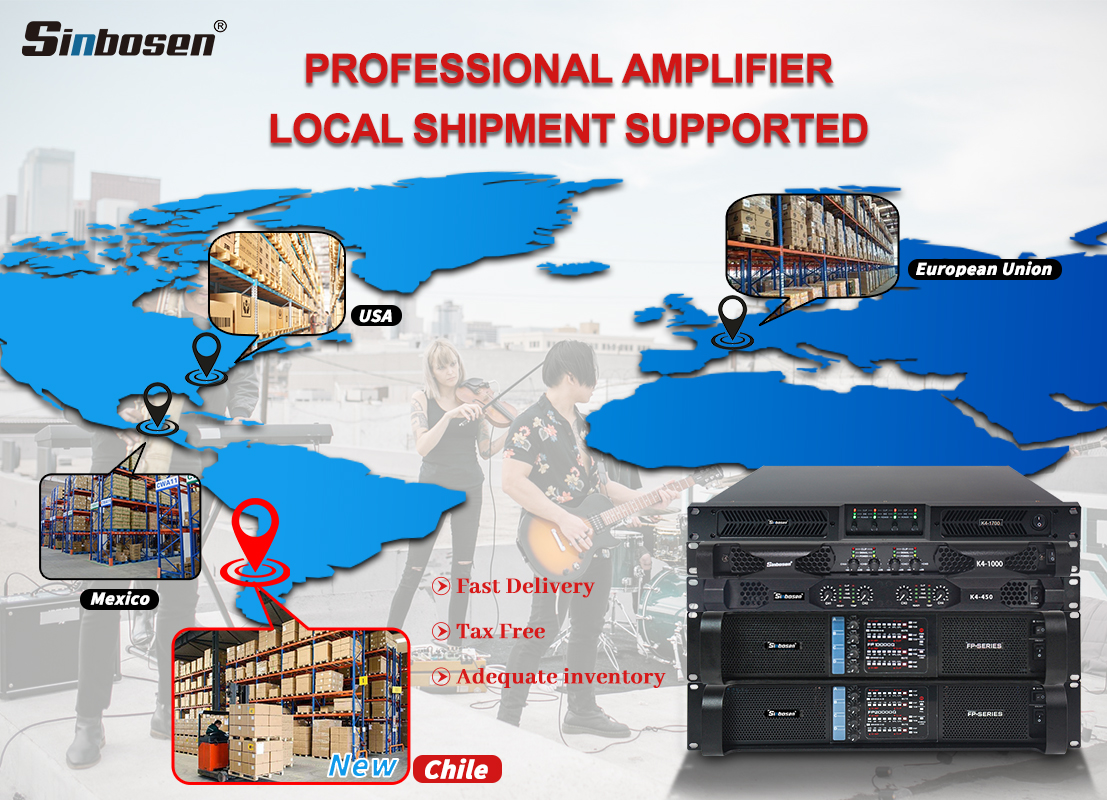 ---
Contact Us to get product catalog or Local inventory:

sales2@sinbosen.com
Whatsapp:
https://api.whatsapp.com/send?l=en&phnoe=8616676738225
Website:
https://www.sinbosenaudio.com/