¡Accesorios y Dolly 4 en 1 para altavoz de arreglo lineal K3!
: 424
: 2023-06-30 12:04:22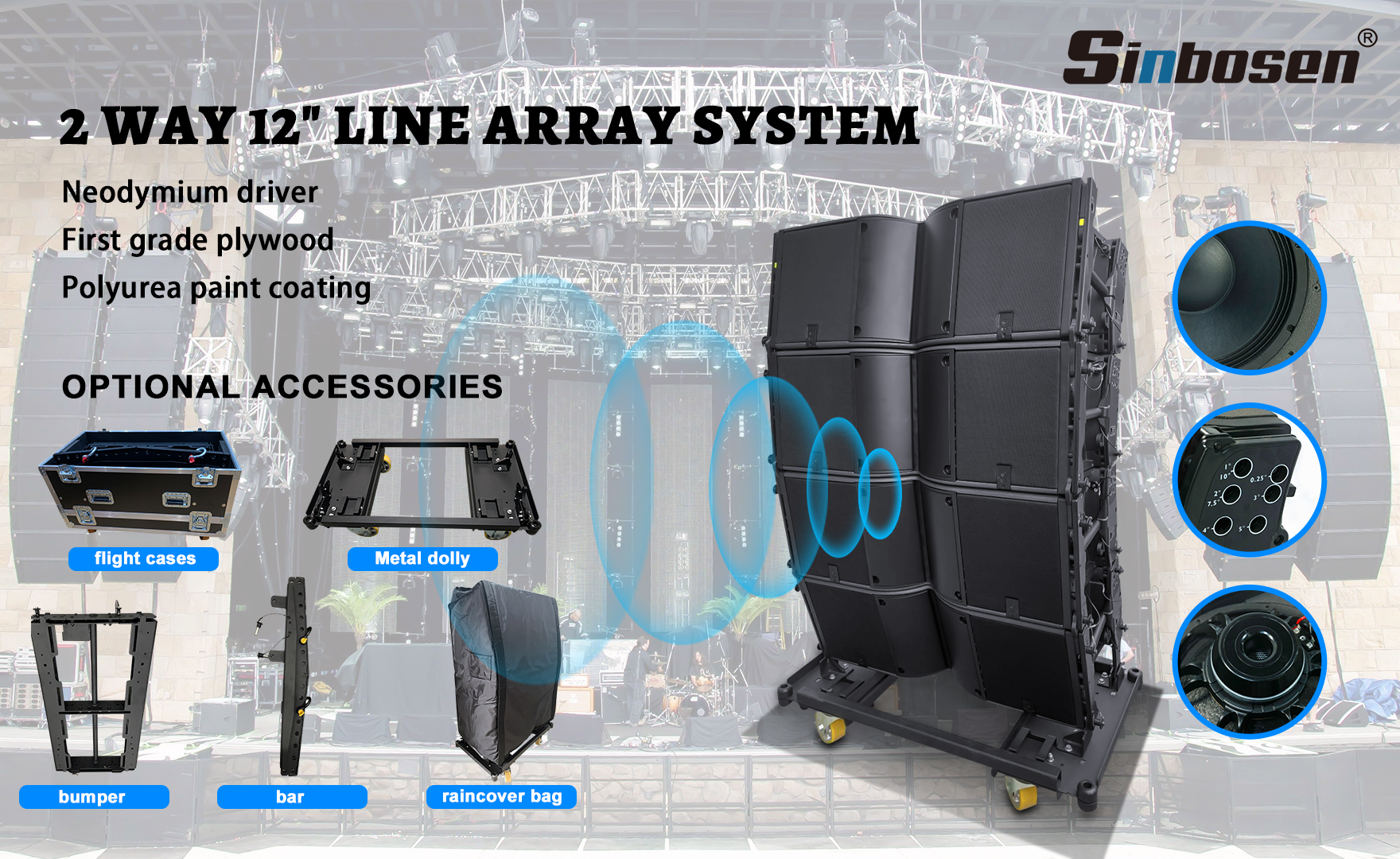 the Sinbosen K3 Dual 12" 2-Way Audio Line Array Speakers, the perfect choice for any sound system. These speakers are made of first grade Russian birch plywood, making them incredibly durable and long-lasting. The surface is coated with polyurea paint, which is anti-corrosion, waterproof, and wear-resistant. The steel grating and rigging components are also high-grade steel with anti-corrosion coating. The front is wrapped in acoustically neutral 3D fabric, giving it a sleek and modern look. The Sinbosen K3 Dual 12" 2-Way Audio Line Array Speakers are built with two 8
Ω
450W 12 inch neodymium woofers and one 8
Ω
140W 4 inch tweeter, making them capable of producing high-quality sound. The sound is clear and powerful, perfect for any venue. Additionally, the speakers have user-friendly designs like the ability to adjust the inter-enclosure angles and replace speakers without disassembly.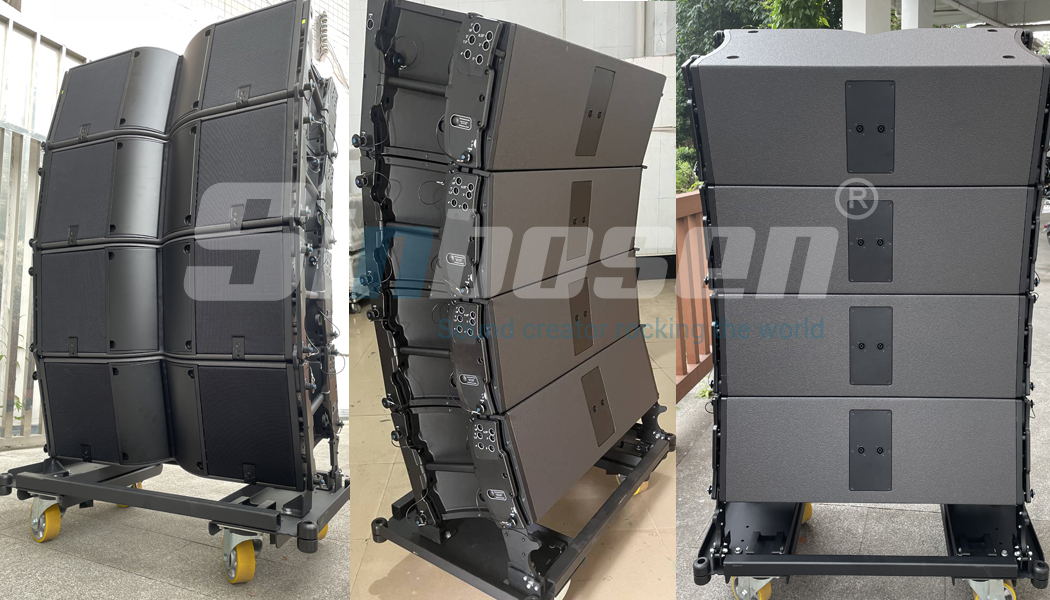 Transportation and precautions for K3 line array speakers:
For large sound systems, line array speakers like the K3 are usually transported in combinations because they are bulky and difficult to transport individually. If you only need to transport one line array speaker, you can consider using a small container or a specialized transport packaging. When purchasing eight K3 line array speakers, they can be transported in a 4-to-1 configuration (4 K3 speakers stacked on the same metal dolly), divided into two groups. In a group of line array speakers, stacking four speakers together means that larger physical space needs to be considered. Therefore, when combining transportation and installation, the following points should be noted:
①Box: Before transportation, it is to prevent damage and abrasion. Usually, a specialized protective box is added outside the speaker to protect the speaker and its components. This protective box often provides additional support and cushioning to protect the speaker and its parts from vibration, impact, and other external forces.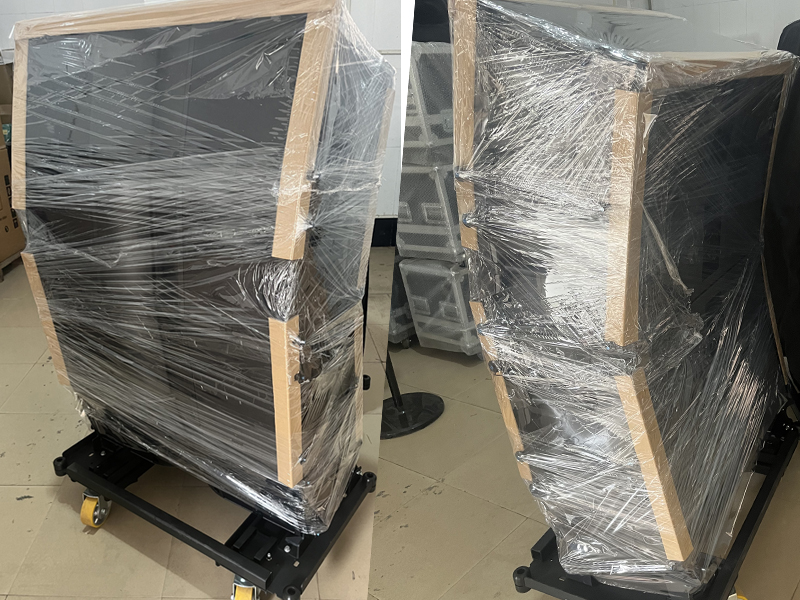 ②Bulk Packaging: Stacking and packaging four line array speakers together is a good choice. By using bulk packaging and packaging, it can prevent individual components from moving independently or being crushed during transportation, which can result in permanent damage.
③Transportation Tools: When transporting line array speakers, it is necessary to use professional transportation tools to ensure the safety of the equipment. Choose to install wheels at the bottom and have professional personnel lay out the equipment to ensure that all line array speakers are placed correctly. Additionally, stability can be ensured by using straps, brackets, or other suitable methods. This prevents the equipment from shifting during handling and transportation.
④Installation and Testing: After arriving at the destination and completing the assembly, testing is required to ensure that the equipment meets the normal operational requirements. During the installation process, it is necessary to refer to the corresponding guides or requirements and use professional tools and methods to ensure that the installation and adjustment of the line array speakers achieve the best results. Some professional speaker accessories, such as array frames and hand pulleys, may be required.
The
speaker bumper
is a special support frame used to support line array speakers, usually used at the bottom and middle of the line array speaker system to stabilize and support the speakers. The speaker bumper
plays a role in stability, safety, and adjustment.
- Stability: The bottom of the speaker bumper
is designed with a triangular structure, greatly improving the stability of the line array speaker arrangement, effectively reducing the shaking of the speakers during use and ensuring stable, clear, and balanced sound output.
- Safety: The speaker bumper
can support the entire line array speaker setup, reducing the risk of accidental falling or breaking, ensuring the safety and reliability of the speakers during use.
- On-site adjustment: The angle of the speaker bumper
can be adjusted to adjust the tilt angle of the line array speakers, ensuring appropriate sound coverage and better meeting the needs of the live sound environment
- Other functions: The speaker bumper
can also be equipped with various hanging and connecting
During normal use, your speakers are easily damaged by rainwater. In this case, a raincover
bag
is a good choice. If your speakers do not have waterproof function or only have basic waterproofing, you can purchase some raincover
bags
to protect your speakers. These rain covers are usually transparent plastic bags that can effectively protect the speakers from getting wet by rainwater without affecting the audio quality. Alternatively, you can choose speakers with a certain level of waterproof performance, such as the K3 speaker, which is coated with polyurea paint that is corrosion-resistant, waterproof, and wear-resistant. By adding a raincover
bag
for double protection, you don't have to worry too much about the impact of heavy rain on your speakers.
---
Contact Us:

sales2@sinbosen.com
Whatsapp:
https://api.whatsapp.com/send?l=en&phnoe=8616676738225
Website:
https://www.sinbosenaudio.com/